LIVE BLOG: Updates from the day
We Hope that you have enjoyed our LIVE BLOG, See you next year!!!!!!
2:30 pm: Some of the blogs have started to go up
2:15 pm: It is time to send the projects, it is tense in here!
We decided to interview talk to everyone about the day
Laura- I learnt how to edit and use different software
Ailsa- I have learnt how to interview someone
Beth- I have learnt that it is hard work to be a BBC News reporter
Nina- I now realize how difficult it is to be a journalist.
Emily- I have  learnt who to write a report like a news reporter would
Ella- I have learnt how to film
Lauren- I have learnt editing skills
Harrison- I have learnt about journalism
Megan- I have learnt that being the interviewer is just as fun as being interviewed
David- I have learnt how to be a News Reporter
Ethan- I  learnt how to shot videos
Harrison- I have learnt lots
John- I have learnt stuff
Lewis- I have learnt many things
Verity- I have learnt how to work as a team
1:55 pm: It is getting close!
1:45 pm: 30 minutes to go. It is getting tense!
1:30 pm: Not long now! Everyone is working hard to get it done!
1:15 pm: Deadline is closing in! 1 hour to go
1:00 pm: Working through lunch to get it done!

12:45 pm: We are all hungry for lunch and only have 80 minutes left to finish off our stories! It is going to be full on!
12:15 pm: Both Ella and Lauren say"It is very good but quite stressful getting all of the stories out on time!" Beth says "It is interesting to find out what being a Reporter is like, this opens more doors. However it is quite stressful for everyday!"
12:00 pm: Lots of people are loving it! Ailsa Says" It is a great opportunity to push our selves at      something different!" Laura says"It is lots of fun we get to investigate topics that interest us"
11:45 am: We are nearly half way through the day and we are all finishing off our recordings and           starting to type them up, we have had lots of interesting interviews and can't wait to share them with you.
11:30 am: Harrison, John and Lewis have a 20 minute recording of a UKIP MP.
11:15 am: Interviews are almost all done and some reporters are even writing up their stories!
11:00 am: Interviews are well under way,
10:00 am: Everyone is working on their stories and interviews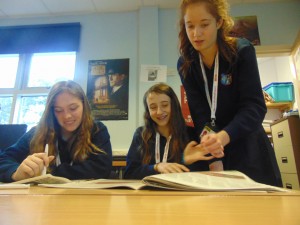 9:40 am: Everyone has got their stories, we can't wait for you to see them:
                    Harrison, Lewis and John: EU referendum- Guide for young people
                    Ethan and David: Libraries closure
                    Beth, Emily and Nina: Junior Doctors Strike
                    Laura and Ailsa: Girls in STEM subjects
                    Harrison and Megan: Sports Report
9:15 am : Hi we are Verity, Lauren and Ella and we are the Live Blog Team for the day. We will be keeping you updated on all the of BBC News School News Report throughout the day.